Hey guys,
So for those of you who follow me here regularly you'll know I just got back from my annual trip to the homeland. I always love going home to see the family & friends but I also love that it's a whole change of pace for me over there. I know when you go on vacation you're supposed to chill and do nothing but I find sitting and doing nothing harder than actually not sitting and doing something, though I did find time to do both and I didn't shrivel up!
This may not come as a huge surprise to most of you but I'm a very picky eater. Maybe me being the 'healthy' chef was an indication but for those who are not the sharpest this is true. I'm very much a creature of habit and I'm really disciplined when it comes to how I live and eat. However, when I'm on vacation all bets are off. When I'm on my holidays……I'm on my holidays. I love food and always have so when I get the opportunity to eat what I like I go balls out, which is precisely what I did. Now, that being said I don't suddenly start eating Micky D's or any of that shit–I mean I eat quality food but of all sorts.
Let me walk you through some of the food excursions I partook in. Surprisingly on this trip we didn't have a bad meal.
Really?
I just surprised myself thinking about that, especially since England and Ireland aren't exactly known for their haute cuisine.
Beginning our trip in NYC we were brought to probably the best vegan restaurant I've eaten at called Candle 79.
Some people when they hear the word 'vegan' think a plate of broccoli and carrots, which it was at one stage but nowadays there are so may great recipes and innovative chefs out there cooking amazing vegan food. I loved it.
That was our best meal in NYC and if that damn tornado hadn't ruin our plans we would have eaten there again.
Our next stop was London. After training to become a chef I lived here for a few years working in restaurants and sadly I hadn't been back since. This was an opportunity for me to see some old friends and finally get some great fish n chips, which I did on more than one occasion. What really struck me about London was the quality of the pub food. Pub food was never really known for being quality when I lived there but it's clear a lot of pubs have put a lot of time into making their food better. An interesting fact I found out is that some of these pubs lease out their kitchens so they don't have to deal with hiring chefs, food costs, etc. though they'll make a cut off the food sales through the lease. You would assume (as I did) that they would focus on classic English pub grub but not so. What kind of food do they serve?……..Thai. Yep. An English pub serving Thai food. Now I'm not saying this is typical of all pubs but we came across a dozen or so all serving classical Thai dishes and damn good it was to boot. My favourite Thai pub meal was at Walmer Castle in Notting Hill. Brilliant.
There's something about having a cold pint with a hot Thai curry…..for breakfast. 'Fraid so. Course 'breakfast' was had at 3pm (twice)–I was on holiday after all! Just be very careful when asking for "not hot"–our lovely Thai waitress at The Churchill Arms, which is pretty cool inside, must've thought I said "very hot" as I sweated my way through my meal sans taste buds at that point. Though it was tasty it too spicy for this Paddy.
I did go back to a local bar, The Audley in Mayfair, that I used to work near when I worked at Scott's (looking lovelier than I remember) back in the day and I had a superb fish n chips with mushy peas. Man, that was good especially having just eaten an hour or two before. Yes, I am a machine. When in Rome and all that.
That was pretty much my staple diet for those few days in London. After that we headed over to the beautiful tropical island of Ireland for some R&R, which was badly needed by then. I knew I was in for some home cooking and even a little pampering by the mother Murphy. Bless.
I have to say, one of the great things about eating in Ireland is the quality of ingredients is great. Not only the veggies but we have great locally farmed meat and locally sourced seafood. A huge amount of pride is taken is ensuring the quality of the meat so much so that when you go into a butchers shop (yes, we still have them) you'll always see a sign showing where the meat was farmed, slaughtered and transported to along with origin info for fruit and veg, which is a true farm to table experience. Sadly supermarkets are gaining speed but here's hoping the butcher keeps on going.
When I first got into cooking I worked in a number of seafood restaurants which I really enjoyed. I'm definitely a sucker for fresh seafood so my folks brought us to a local seafood restaurant in Fenit. If only I could remember the name…I'll work on that because it's worth going to. The restaurant actually started as a store selling the locally caught seafood with a little deli counter selling pates, quiches, breads. The locals ate it up so to speak so they opened a restaurant upstairs. What I really liked about it was that I didn't have to say "sauce on the side." Typically the Irish drown their seafood in sauces masking the beautiful fresh fish but this place let the fresh catch shine. A small Mom and Pop shop serving quality locally sourced food is absolutely brilliant. Even better, the locals love it and that means success!
It wasn't all eating out of course. Usually when I visit I do some of the cooking mainly just to show the folks that I can actually make something other than beans on toast, which should never be discounted as a classic dinner option by the way. Truth be told they love it. I made dinners ranging from stir fry to roast beef to grilled salmon. (I covered the whole gamet.) Funny thing though, Mum wanted to make potatoes for the stir fry….oh the Irish and their spuds!
Just before it was time to head back States side we spent our last couple of days in Dublin. We were wandering around on the first day and having been on the road for over 2 weeks we were craving something a little cleaner and healthier. Lucky for us we happened upon a vegetarian restaurant in the city center called Cornucopia. I had never seen it before probably 'cause I live in a different continent but I guess it's been there for 10 years or so. It was just what we needed. Clean and delicious.
I was back on track to my former healthy self until, of course, it started bucketing down so we ducked into a pub for a pint of Guinness or two. Oh ya and a crab and prawn sandwich on homemade soda bread for my second lunch. I do love my food. And let's not forget to mention the homemade brown bread ice cream I had to tuck into. Created by Murphy Ice Cream (the May West I might add) this was the most interesting flavour I had ever tasted and it was damn tasty. They recommended to pair it with raspberry sorbet thus creating a jam sandwich. Amazing like! I love holidays.
After a break in the weather we jumped on the train to meet up with friends in a small village outside Dublin. Of course we wanted to grab a bite beforehand (otherwise known as soakage). Dalkey is mostly known for the town Bono lives in, my old local pub and delicious restaurants. By chance we came across an Indian restaurant, Jaipur. Being midweek none of the restaurants were particularly busy (I'm always a weary of eating at empty restaurants) but the plaques on the outside wall convinced us to try it out. Is that a new thing by the way, the award plaques? They worked on us and we were delighted how delicious everything was. I love when I come across these little gems but you gotta kiss a lot of toads to find 'em (remember our Mexican fiasco in Tralee?). Yet another vegetarian meal for Irishman. Maybe Robin is rubbing off on me after all. Of course we didn't leave Dalkey without hitting up the local but unfortunately for my missus, no Bono sighting.
The next evening was our last and we were absolutely wrecked. We had thoughts of hitting up the Guinness Brewery but since we were in slow-mo we just ended up going for a walk into city center and doing what else…eating and drinking. So much for not partaking in the Guinness on this day but I had to drag the missus to my old haunts. They just don't make the true Irish pubs like they used to. But they sure do make some good food around town now. Those plaques worked again and we found ourselves inside a Thai/Vietnamese restaurant, Saba, which was delicious yet again. Like I said, we didn't have a bad meal.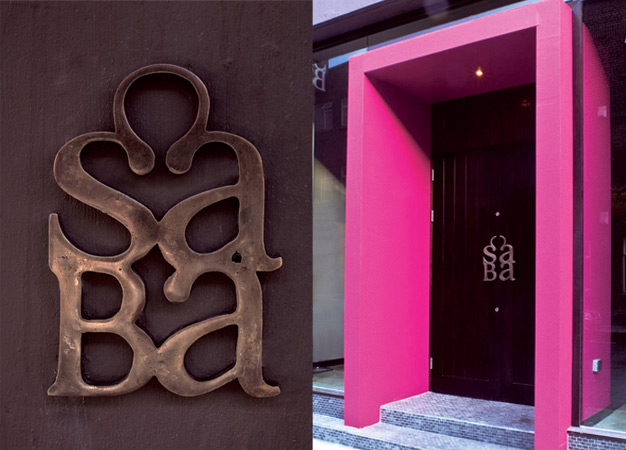 And that was it. I'm pretty sure you don't want to hear about my airplane food so I'll stop here. You bet I came back sporting a spare tire but it was definitely worth it!
Back to my manic ways. Off to the gym.