Well kids, here we are. Can't believe it's Christmas…………again.
The Missus and I just got back from a brilliant weekend back in Austin, Texas, sort of early Christmas if you will along with a big Texas piss up to celebrate my father-in-law's 66th. All the in-laws were in attendance and I'm not sure there are enough words to describe all the madness. Or maybe there's too many words…either way, we'll keep it in the family as they say. Of course while there we had to hit up another famous barbecue joint, Stubb's BBQ. The food wasn't as killer as the Salt Lick but the ambiance was cool. It's a huge live music scene but we only had time for some grub. Let me tell you, it's true what they say about Austin being the 'Live Music Capital' as there's live music ALL. THE. TIME. What a scene!
We hit up The Continental Club on a Saturday afternoon and the gaff was jointed! Live rockabilly & country music with dancers–great craic. Little known fact (just because it's Christmas) I used to rock the cowboy boot look back in the day in Dublin–waaay before anyone else was rockin' that look. (Cool? Debatable. I thought so. That's my story and I'm sticking to it.)
Anyway, it was another great trip to Austin, family and food-wise. Has anyone eaten at Guero's on Congress? It's a fun taco bar where they make their own corn tortillas fresh right there in front of you. On my last visit to Texas I saw fresh flour tortillas being whipped up and this time it was corn. Gotta love those fresh tortillas and now I get why Texans love tortillas. If only I had that recipe!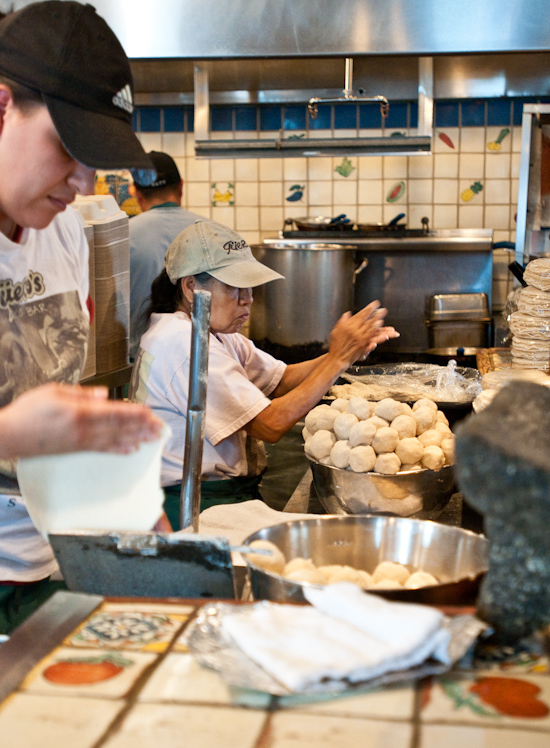 (Photos by Andrew Collins and orthogonalthought.com)
After eating my way through Austin it's a good thing we booked a catering gig for today, Christmas Day, so I can work off my tortilla belly. I'm lookin' forward to it actually. Christmas is all about family for me (and everyone else) and since all mine are back in the homeland I'm happy to work (with the Missus in tow of course). I've got quite the menu planned for this event–how does this sound: Brined Roast Heritage turkey with homemade gravy & cranberry relish, Balsamic-Agave Glazed Ham, Butternut Squash Soup, Twice Baked Sweet Pots and Smashed Roasted Mini Pots, Sauteed Green Beans with Sun-dried Tomatoes, Roast Seasonal Farmers' Market Veg, Cornbread Muffins, Mixed Baby Greens with Shaved Fennel, Spiced Pumpkin Seeds, Goat's Cheese and homemade vinaigrette. Whew. Let's not forget dessert(s)!!
So that's my day. We'll celebrate on Saturday in true LA style by probably heading to the beach. Could be worse right?
I hope you guys all have a very Happy & Healthy Christmas!
As we say,