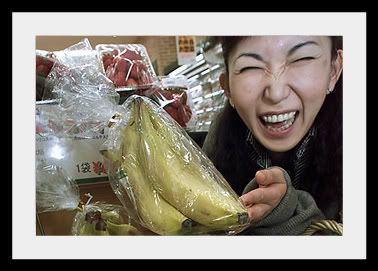 A customer beams during selection of bananas at an organic food market in Tokyo.
As I was cruising the internet yesterday I came across this article on Time.com which caught my attention. Bananas it seems reign supreme in the Japanese diet world nowadays due to the newest diet fad called The Morning Banana Diet. The diet's regime, designed by Sumiko Watanabe, is simple: A banana (or as many as you want) and room temperature water for breakfast; eat anything you like for lunch and dinner (by 8 p.m.). A three o'clock snack is okay, but no desserts after meals, and you have to go to bed before midnight. According to the article, with the help of celebrities' use of the diet and even books written about the Morning Banana Diet (I can only imagine what that consists of), bananas are flying off the store shelves. "Large stores don't have any bananas from noon, and even Ito Yokado (a major supermarket chain) runs out of them after 3 p.m.," says Tomoyuki Horiuchi, sales representative of Tokyo Seika Boeki Co., Ltd., fruit and vegetables wholesale company. Hiromi Ohtaki of Dole Japan, a leading banana importer, sees the boom in sales as largely due to Morning Banana Diet — bananas don't normally sell well during summer, and this year's summer has been especially hot. Still, over the past 4 months, demand has driven Dole Japan to increase its banana imports by upward of 25%, and even then supplies could not keep pace with demand. "In a way this is an emergency," explains Ohtaki. "We've been importing bananas from the Philippines for the past 40 years, but this is the first time something like this happened to us, and we find it very difficult to cope."
An emergency ? ? Over bananas? Gimme a break. Now we all know bananas are good for us. They are not only a good source of B vitamins they also contain vitamin C, A and high levels of potassium as well as a good source of fiber. They're a great after workout snack and even good for hangovers, I believe! I even found that there is indeed a relationship between bananas and losing weight. As cited on weightlossforall.com, "Bananas may be one of the best fruits to eat when attempting to lose weight. They are full of nutrients for increased energy and vitality. Bananas are also low in calories and fat, plus they have a high water content and potassium levels. A diet high in potassium foods and lower in sodium-loaded processed foods can help reduce water weight." The key words there are "water weight." In my opinion eating a few bananas in the morning then eating whatever you want up until 8pm isn't the ticket. Do I dare state my true feelings on this so-called diet? In a word: Bollox. I'm wondering however if this is a direct result of a piece on CNN last June that we featured about the Japanese workforce becoming over-weight, a finding linked to the arrival of fast food and soft drinks. I'm sure you can see the obvious choice here but I guess there's always going to be some fad diet out there. Maybe Dole had extra bananas to sell! Makes you wonder how these all begin.